Is your brand ready to introduce localized landing pages into your marketing mix? Creating landing pages for every branch or store can be intimidating for some brands, as they often require significant planning and organization from both corporate and local parties. The pages need accurate, geo-specific information; the content needs to be intriguing; and finally, each page must promote a strong and relevant call-to-action. Brands will need to have a solid strategy in place to build, optimize and launch these landing pages.
Locally, brand affiliates and channel partners must stay ahead of all these latest offers and promotions. Additionally, if the local affiliate is tasked with creating the landing page, they must understand the unique nuances of landing page development. How should the call-to-action be placed on the page? Will there be a form on the page? If so, what type of information should be gathered? How will the landing page accommodate the brand's standards and guidelines?
Sotheby's International Realty is a well-respected luxury real estate firm with offices around the world. With locations all over the world, Sotheby's partners require highly targeted and localized web content to engage and entice prospective homebuyers. As such, Sotheby's leverages the power of localized landing pages to procure more qualified customers for their agents and sell more homes. In this article, we'll learn how Sotheby's uses local landing pages to increase marketing ROI. We can't promise you'll be able to re-engineer how Sotheby's gets it all done, but you might be able to build up to similar success for your brand.
How Local Landing Pages Increase Brand Loyalty
What is a Landing Page?
In digital marketing, a landing page is a standalone web page, created specifically to promote a particular offer, product or service. It's where a visitor "lands" when they click on an ad or ask to learn more. Within the multi-location model, localized landing pages are hyper-focused on a specific geographic location. The page might promote a regional offer only available at certain stores. Additionally, the page might feature languages native to local audiences. When local affiliates introduce some of this great local flavor into their landing pages, consumers can better identify with the brand and response rates increase as a result.
Why Do Landing Pages Work?
There are a number of reasons that brands choose to introduce localized landing pages into their marketing mix. For one, landing pages give consumers the information they need to take action, all in one place. A great landing page focuses on one specific product, solution or offering and gives consumers all the insight and know-how needed to complete a specific action. Why does this matter? The human attention span is about 8 seconds. A well-designed landing page features visually compelling graphics, a distinct call-to-action and highly persuasive copy designed to inform and create the urge to take action.
For distributed brands, localized landing pages have great potential to drive high ROI for local outlets. Learn how in How to Use Localized Landing Pages to Boost Sales for Each Location.
How Sotheby's Uses Landing Pages Effectively
Sotheby's localized landing pages provide luxury homebuyers with the most up-to-date information for their home buying journey. By referencing these local landing pages, consumers can access more information about the real estate market in a particular city or county. Additionally, the local landing page might promote a specific home that's up for sale. There, visitors can learn more about the home's unique amenities and features. Then, if the homebuyer would like to schedule a consultation or RSVP for the open house, the page lets them get in touch with the agent directly.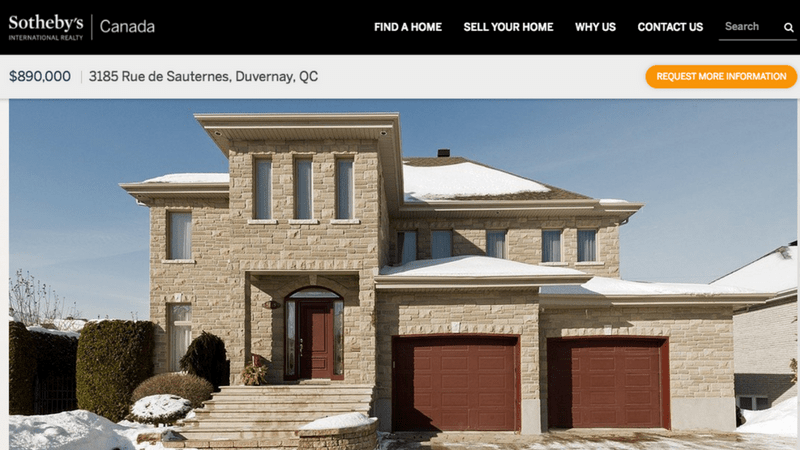 Source: Sotheby's International Realty Canada
Each localized landing page isn't just a good sales tool for the realtors; it also communicates Sotheby's unique values and aesthetic flawlessly. And that's not by accident — it's by design.
When building a local landing page, Sotheby's follows these best practices:
Local Offers and Messaging: Sotheby's introduces location-specific offers and messaging on their landing pages to maximize engagement. Again, this localized flavor shows consumers that Sotheby's understands the unique local landscape. When searching for a home, localized messaging tells the consumer that Sotheby's can be trusted as consumer's realty partner. How good could a real estate agent be if they can't tell you much about the local market? Same goes for that real estate agent's web pages.
Graphics and Imagery: Sotheby's uses a variety of vibrant imagery and graphics to showcase their beautiful luxury homes. What's even better is that each of those items is locally created on-site at the homes that are being featured. On each landing page, users can browse through image galleries and any other kind of visual elements that the realtor has on offer for the home. There, homebuyers can scroll through the images and get a feel for the home without even stepping foot onto the property.
Clear Conversion Point: Sotheby's uses a combination of lead generation forms and calls-to-action to inspire customer engagement. Regardless of the conversion point, forms and buttons must be optimized to help generate high-quality leads. Realtors don't know all these subtle design principles, but the brand graphics teams certainly do!
Mobile Optimization: Sotheby's landing pages are optimized for use on mobile devices. Why? With more than 1.2 billion people accessing the web from mobile devices nowadays, mobile optimization isn't optional; it's required. Today, consumers want to access information on-the-go and across multiple devices. That includes when they're shopping for their next home, and the Sotheby's team clearly knows this.
Contact Information: When creating localized landing pages, Sotheby's always includes the listing agent's contact information. With convenient access to a knowledgeable Sotheby's representative, customers can send quick inquiries regarding any of the home's listed amenities or prices. For additional information regarding agent's background and experience, Sotheby's also includes a separate breakout page. This is just one more of those things that localized landing pages can offer that your run-of-the-mill web experience can't – real experts, right at your fingertips.
Branding: Sotheby's localized landing pages are dressed in the brand's unique aesthetic. No matter if it's a co-branded location, or one of the brand's own pages, the identity is clear and unmissable. When local affiliates incorporate the brand's colors and logos into their advertising, consumers trust that they're dealing with the same prestigious real estate firm that they've come to know and love. It's no different on a web page than it would be on TV or in print.
When brands introduce some of these elements into their landing pages, the local affiliate can see improved conversion rates. That leads to long-term engagement with customers. After that initial contact, the brand and local affiliate can partner together to run additional multi-touch experiences with those customers to keep them interested in the brand.
Ready to take your local marketing to the next level? For more insight, check out How Enterprise Brands Execute Effective Local Marketing.
Increase Brand Loyalty with Local Landing Pages
While localized landing pages present a number of unique challenges, there is no doubting the effectiveness of these marketing channels. With more and more brands investing in these kinds of digital platforms, there's no better time to add localized landing pages to your marketing mix. For any brand eager to equip their local affiliates with landing pages, be sure to incorporate some of the best practices that Sotheby's and others follow. That's why brands often utilize Local Marketing Automation (LMA) tools to master the art of localized landing pages.
With a tool like CampaignDrive, local affiliates can create beautiful local landing pages that are automatically on-brand. With access to convenient and easy-to-use smart templates, local marketers can create compliant and effective local landing pages. Additionally, with access to advanced features such as conversion forms, detailed analytics and search engine optimization tools, local affiliates can maximize the effectiveness of these pages. And the impact on brand loyalty? All that can be seen in the roll-up reporting that shows how customers engage with your local affiliates and their online presence.