The U.S. travel industry is one of the fastest-growing markets in the world. Only the best hotel brands with exceptional local marketing are able to keep pace.
In a recent report, U.S. gross bookings grew from $116 billion to $185 billion. This kind of unprecedented growth is fueled by a robust economy, rising global consumer purchasing power, and all-new digital innovations. This year, market conditions are expected to remain strong, however, significant challenges loom.
The biggest challenge growing hotel companies face is standing out in a sea of competitors. Since launching in September 2017, InterContinental Hotels Group's midscale brand Avid has signed more than 170 new hotels. Moreover, Best Western Hotels added two new brands to complement its growing list of boutique hotels.
This intense competition means that hotel companies must look for ways to differentiate and build even more brand equity. To pull this off, marketers must commit to building, deploying, and managing a high-value hotel marketing strategy.
4 Components of a High-Value Hotel Marketing Strategy
As you build or reconsider your hotel marketing strategy, be sure that it covers these four mission-critical focus areas:
1. Audience Analysis
Understanding your target audience is one of the keys to your hotel's marketing success. An audience analysis will give you deep insight into demographics, language, location, preferences, interests, and other core metrics. In many instances, an audience analysis begins by defining your buyer persona.
"A buyer persona is a semi-fictional representation of your ideal customer based on market research and real data about your existing customers," says Sam Kusinitz, contributor at HubSpot.
Here are some practical methods and tips for gathering information needed to develop buyer personas:
Look through your customer database to identify unique trends
Build web forms in a way that captures important persona information
Coordinate with your sales team
Interview prospects and customers
Related: 5 Ways to Use Local Market Research to Create Compelling Content
2. Unique Value Proposition
What is your hotel great at? How does it differ from the competition?
Answering these questions will help you create a unique value proposition. Your unique value proposition explains why someone would want to stay at your hotel instead of your competitor's hotel down the street.
Keep in mind that your value proposition is not a slogan or tagline.
"Those types of copy are important accessories to your brand, but your potential customers and employees don't choose one business over the other based on a high-level mission statement," says Lindsay Kolowich, contributor at HubSpot.
Here is a great unique value proposition example: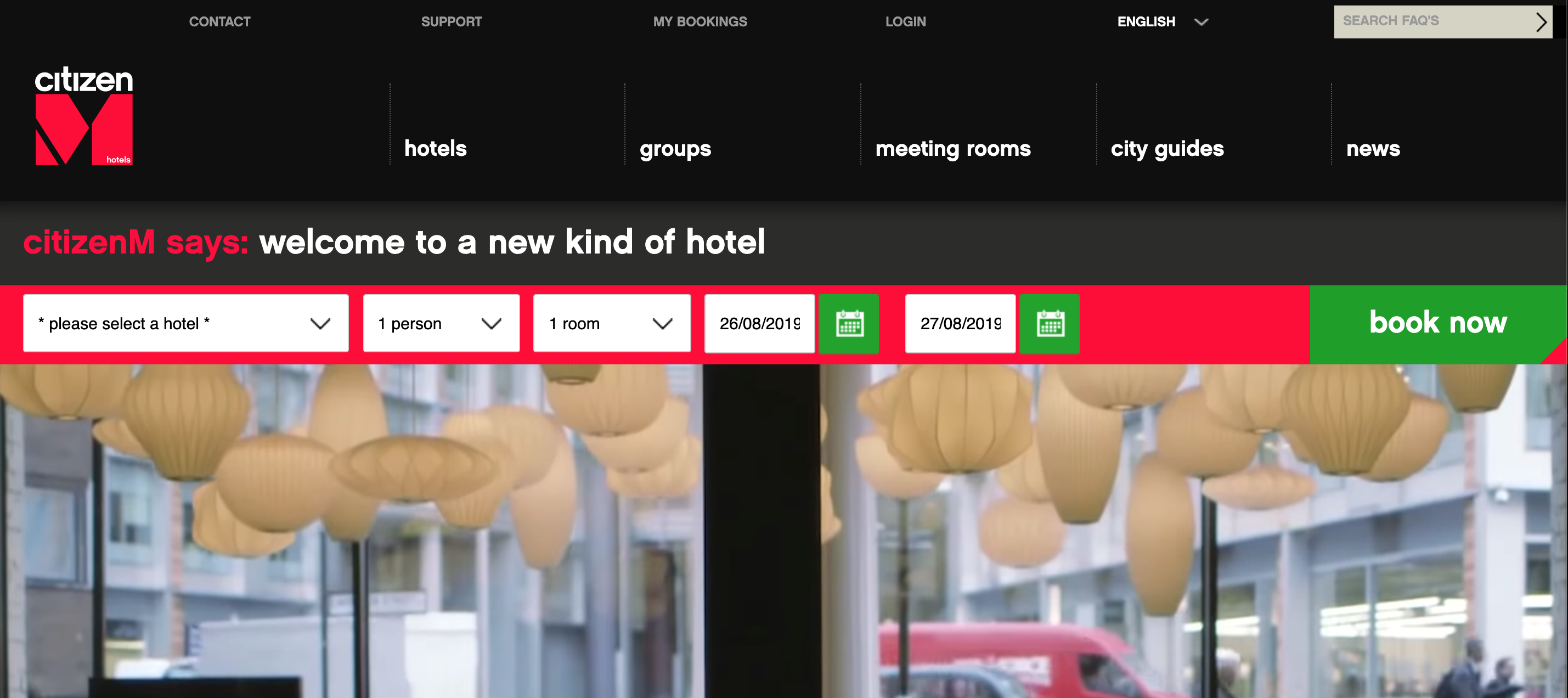 citizenM promises to deliver a "new kind of hotel" experience. When booking with citizenM, guests know that they are going to receive a totally unique and modern approach to hotel guests services.
3. SMART Goals
SMART goals are the benchmarks that you want to achieve over a certain time frame. SMART is an acronym that describes the most important characteristics of the goal (specific, measurable, attainable, relevant, and time-bound).
Here is an example of a SMART goal:
Specific: I want to increase our blog's traffic through increased publishing. Our two bloggers will increase their workload from two posts to three posts per week.
Measurable: I want to increase our blog traffic by 8% monthly.
Attainable: Our blog traffic increased by 3% last month when we increased our publishing scheduled from one post to two posts.
Relevant: By increasing our blog traffic, we'll increase brand awareness, generate more leads, and sell more rooms.
Time-Bound: I want to increase our blog traffic by the end of the month.
4. Channels and Tactics
What marketing channels or tactics are you going to use to achieve your SMART goals? If you are just launching a marketing program for the first time, oftentimes less is more. Start slow, leverage a few marketing channels, and grow from there.
As a best practice, consider developing a localized approach to social media marketing. In this scenario, local affiliates utilize brand-supplied creative and add a local twist in the form of imagery or messaging.
Here's an example of localized social media marketing: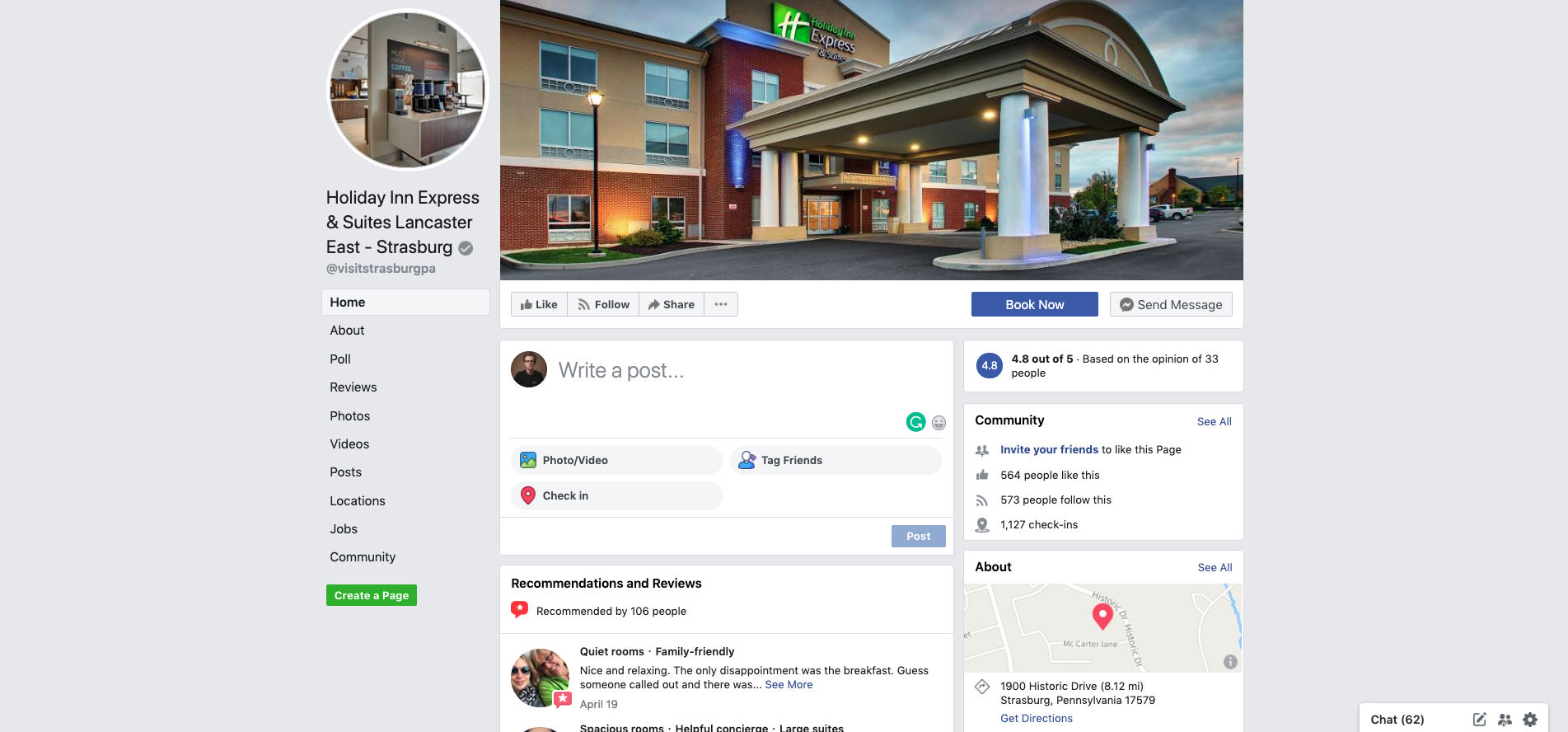 In this example, the Holiday Inn Express & Suites in East Strasburg, Pennsylvania used an image of the hotel as the featured image on Facebook. This is a great way to get guests familiarized with the property before even setting foot in the door.
Related: Modular Content Makes Hotel Landing Page Creation Easy
For hospitality brand managers eager to deploy the hotel marketing strategy across the distributed network, a brand management solution is a key requirement. Many industry-leading distributed organizations make serious investments in this area.
To learn more about our brand management tool, we invite you to take our software out for a free test drive. Experience first-hand how system administrators, designers, and local marketers use CampaignDrive to power value-driven customer experiences and deliver on-brand creative across the distributed network.
We are proud to offer the following:
Full implementation and support services
System training and management
Unlimited number of users
Unlimited number of locations
No surprise or hidden fees