In an increasingly digital world, print marketing is still popular. Brands haven't forgotten about the power of print to engage and excite their consumers. In fact, top multi-location brands use print — whether direct mail, billboards or good old newspaper ads — to drive local engagement and sales.
"Marketers have a plethora of tools to choose from, whether they decide to use a solely digital strategy or incorporate a blend of both traditional and digital tactics," says Larry Myler, contributor at Forbes. "More importantly, brands need to begin thinking like their customer and understand how their target markets are accessing information and consuming content."
When Gerrit Curran and Emily Wessner opened a Jersey Mike's Subs in Muhlenberg Township, Pennsylvania, earlier this year the franchisees relied on a targeted print marketing campaign to attract customers for their new store. In fact, Curran and Wessner used print as their primary marketing channel. The staff distributed nearly 7,500 sandwich coupons all around town, encouraging visitors to stop by for a free sandwich. Even better, the promotion encouraged visitors to donate money to the Muhlenberg Township Athletic Association. In total, the promotion helped to raise over $15,000 in funds. Now that's great local marketing!
Why Does Print Marketing Work?
Curran and Wessner clearly proved that print marketing still works when you want to get new customers in the door at a local store, but what can that teach the rest of us? With the right strategy in place, print marketing can actually attract even greater audiences than digital platforms. In fact, 92 percent of shoppers say they prefer print marketing when making a purchasing decision. So why is print marketing such an effective medium?
"With digital marketing, whether it's an email, a tweet or a paid advert, a customer will consume the message and then instantly carry on with their online journey," says Jon Smith, Marketing Manager at instantprint." However, print offers longevity. If you hand someone a flyer or a leaflet, they can take it away and read it at their own leisure, and then easily read it again."
Unfortunately, the return on investment for print marketing can be quite difficult to gauge. For this reason, there's still some skepticism about print's effectiveness. In recent years, however, top print publishers including Time Inc., Conde Nast, Meredith Corp., Hearst Magazines, and others have introduced "guarantees" on media placements. If the print advertisement fails to deliver sales results, publishers will simply issue refunds or offer additional advertising space for free.
Bonus: To kickstart your print marketing program, we recommend investing in a powerful brand management solution. Here's how to get started:
Learn From 6 Top National and Local Print Marketing Collateral Examples
1. Nivea Men: Because Life Makes Wrinkles
Since 1911, Nivea has been a leader in the skincare industry. For the launch of a new anti-wrinkle product aimed at men, the brand's agency pulled out some advertising magic. These creative print ads played off of men's daily stressors — rambunctious children, automotive repairs, home buying — by using imagery that told a story in an instant and was especially relatable. Why did these advertisements work? Nivea identified with customers' daily lives and positioned itself as the brand consumers need to "work out life's wrinkles."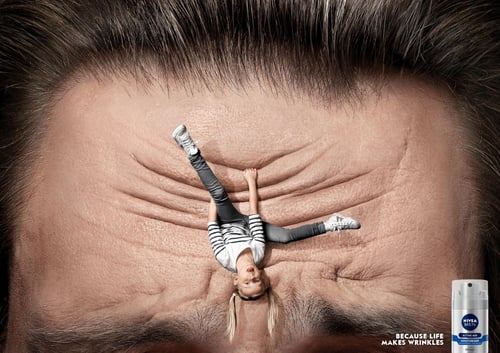 Marketing Tip: What struggles do your consumers face in their daily lives? How does your brand help them get through those challenges? There's no better way to gather this insight than to listen to the customers themselves, so start by issuing surveys or customer feedback forms. Use what you learn to create more targeted and relevant local print marketing.
2. Nestle: Chunky Mail
To communicate the "chunkiness" of their Chunky Kit-Kat, Nestle issued a tongue-in-cheek direct mailer to a select group of local consumers. The card mimicked those "sorry we missed you" cards that British postmen leave behind when packages are too big for the letterbox.
Once opened, the card encouraged recipients to head over to a local retail store to claim a free chocolate bar. This clever local print execution worked because it was delivered straight to consumer's doorstep and because it could be acted on right away in their own neighborhood.
Marketing Tip: Ready to deliver a targeted direct mail campaign just like Nestle? Add a bit of personalization by supplying your local affiliates with templates that auto-populate their contact information.
Learn More: How To Use Local Marketing Automation To Create Personalized Print Campaigns
3. Jeep: See What You Want to See
Jeep has reigned as an automotive leader since 1943. Recently, the brand introduced a series of ads that built off the brand's recognized place as an off-road champion. Built around unique optical illusions featuring wild animals, these ads invite customers to internalize the brand's message that with Jeep you can get out and see whatever you want, wherever you want. By simply looking at the ad a different way, a gazelle magically turns into a seal! These advertisements perfectly capture consumers' desire for creativity and adventure.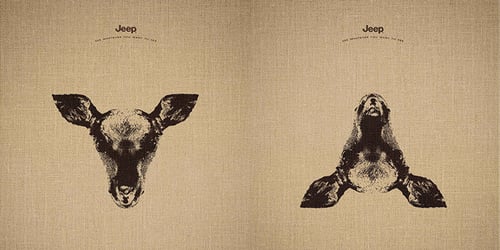 Marketing Tip: When done right, adding unique creativity to your print marketing can be very powerful. Start by consulting your buyer persona intel. What types of ideas resonate with your consumers most? Use this information to craft a marketing piece that customers respond to instinctively. But don't make it all fun and games! Be sure the creativity of the ads still leaves room to tie in your branding.
4. Patagonia: Don't Buy This Jacket
Patagonia ran a print advertisement in The New York Times during the holiday season. This print piece promoted the issue of consumerism head-on.
"It would be hypocritical for us to work for environmental change without encouraging customers to think before they buy. To reduce environmental damage, we all have to reduce consumption as well as make products in more environmentally sensitive, less harmful ways," said Patagonia.
So, why did this advertisement work? It ran against the status quo. It was contrarian and encouraged readers to reevaluate their spending habits during the holiday.
5. De Vere: A Season of Celebration
De Vere Hotels, formerly De Vere Venues is a collection of country estate hotels and modern executive centers across the United Kingdom. During the holiday season, De Vere Hotels used CampaignDrive by Pica9 to activate and distribute printed marketing collateral in promotion of Christmas and New Years celebrations.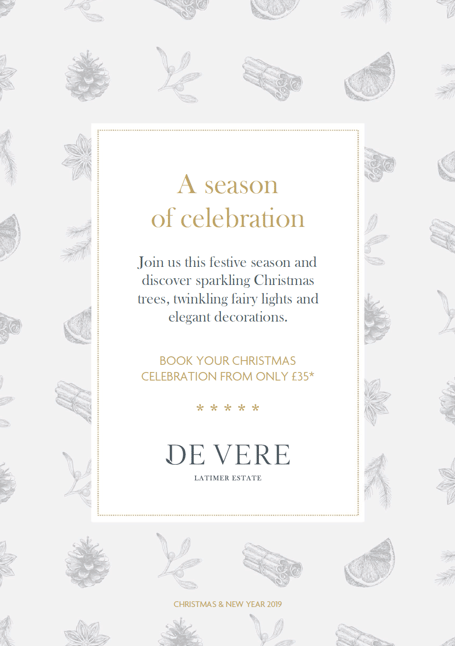 CampaignDrive by Pica9 makes it simple and easy for local marketers to add a touch of local flavor to both print and digital marketing materials. Additionally, corporate marketing teams can "control" mission-critical features within the creative including the logo, price, and more.
Create Impactful Local Print Marketing with CampaignDrive
From location to location, distributed brands can use print to reinforce the brand's mission and values. To accomplish this, the parent brand must work right alongside their local affiliates. What does the local affiliate need from headquarters in order to be successful with deploying that new campaign? What are consumers really looking for in the brand's print marketing? Corporate marketing teams can tap into the needs and desires of the customer and boost their local affiliates with tools that make print ads (and all their marketing) top-notch.
Many of the most successful distributed organizations have invested in brand management solutions like ours to make print marketing design and distribution a breeze. We recommend requesting a CampaignDrive demo to get started.