As a distributed brand manager, you know that print marketing isn't going anywhere. From direct mail pieces to in-store signage, research continues to reveal that print still has an edge. You can thank recent neuroscience studies for revealing a bit more about why print is such an effective part of distributed marketing.
Researchers discovered, per results published in Forbes, that:
Print requires 21% less cognitive effort to process than digital media, meaning it's easier to understand and more memorable for your customers.
Consumers are 70% more likely to recall information from print versus digital marketing materials.
Paper advertising activates the ventral striatum area of the brain more than digital media, increasing the chances of an emotional reaction, recall, and action in customers.
Print marketing has an edge on digital in ways we're just beginning to understand. While digital media is growing and a highly cost-effective way to market your distributed brand, it's safe to say that print should remain an incredibly valuable part of your local marketing strategy.
Why Print Marketing Matters to Distributed Brands
Print advertising (magazine ads, window signage, menus, rate cards, etc.) has a few particular benefits and functions that align well with distributed business models. Three of the reasons print marketing really matters to distributed brands include:
1. Print Has a Broad Footprint
Print marketing can be used as window signage, ads on subway cars, in magazines, and more; all of which have the same goal of creating impressions with a broad audience. For many distributed brands, like hotels or restaurants, facilitating an impression with something as passive as a billboard on the highway may be all that's needed for a first-time buyer to make a purchase decision.
2. Consumers Recall Print Marketing
The human brain processes visuals 60,000 times faster than textual information. There's also evidence that print may have a greater impact on human behavior. In 2014, Americans redeemed 2.7 billion print coupons vs. 150 million digital coupons. Additionally, people are twice as likely to remember receiving a print publication.
For distributed brands of all kinds, including dealerships, print can be an important tool for customer education. A high-value fact-sheet, or direct mail piece, can create a lasting, positive association with your brand in the mind of the customer.
3. Print Reinforces Purchase Behavior
Print materials can be used to educate and inform consumers; reinforcing the right behaviors and encouraging cross-selling. A guest at a hotel may be convinced to purchase spa services based on a rate card located at the front desk. A dealership prospect may feel more comfortable with purchasing after seeing a vehicle's price and rebate info itemized on a sell sheet.
While these three applications are among the most important reasons distributed brands need print, they're not the only ones. "Now Hiring" signs can be a crucial tool for bringing in interested new employee candidates, especially if your distributed brand's staffing needs fluctuate seasonally.
For distributed brands who use packaging, like napkins or sandwich wrappers, there's a great deal of opportunity to reinforce the brand promise through print. Additionally, branded merchandise is another application of print marketing that can reinforce the brand promise in the mind of local employees and the customers who may notice a logo or slogan printed on a mug, polo shirt, or pen.
While virtually all distributed brands utilize some form of print marketing, there are a few organizations that excel in the consistency and quality of their print advertising. Three brands, in particular, stand out as the sharpest examples. Let's walk through the secrets to their success.
3 Distributed Brands That Excel at Print Marketing
1. Ikea
There's discount furniture shopping, and then there's Ikea. From the iconic blue and yellow color scheme and distinctive logo to the unique in-store experience, anyone who's ever walked through the massive Swedish home goods store can probably recall at least a few aspects of their print advertising.
Ikea's brand is fresh and refined. Their anti-furniture store marketing starts with their catalog, which reads a bit like a lifestyle advertisement for the Scandinavian design aesthetic: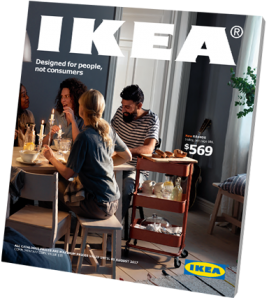 Image credit: Ikea
Once a customer's convinced that they can't live without a rolling drink cart for their dining room, they set off for the store in search of distinctively-named products like the "Sunnersta" kitchen organizer.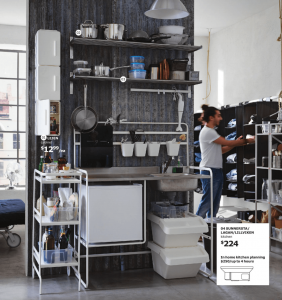 The catalogues are brilliantly designed to elicit response from the consumer, who can flip through to compare pricing and features for arm chairs or mixing bowls. In fact, the print catalog feels like a natural extension of the in-store experience, where the furniture is arranged in a way that encourages comparison shopping and for consumers to understand how the products could fit into their lives.
2. Harley Davidson
Harley Davidson motorcycles: known for their distinct engine sound and hardy Americana image. The company has achieved lifestyle brand status through overall brilliant branding efforts, which certainly include their print advertising. Even casual enthusiasts can typically recognize a Harley ad based on the bold text, grungy textures, and distinctive color gradients. The ad below reveals how the Harley Davidson look is recognizable, even if their memorable orange-and-black logo isn't the first thing that hits you: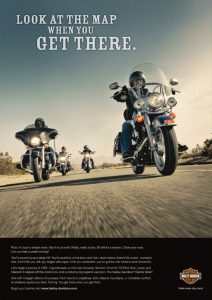 Image credit: HD
Harley Davidson's print advertising in magazines, on billboards, and on other traditional display types is all about creating rough-and-ready appeal. Their ads are consistently high-contrast and convey powerful emotions. Your brand might not have the same rebellious values as Harley Davidson, but there's a lot to learn from how effectively they turn those values into print materials: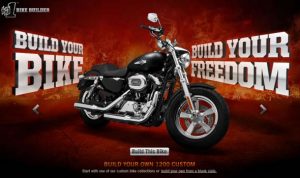 Image credit: AYTM
3. Gold's Gym
When it comes gym brands, the competition is pretty fierce. There are national brands, such as Anytime Fitness, who focus most of their marketing trying to get those once-in-a-while members to sign up. Then there are other gyms, like Gold's Gym, who make it clear they're meant for members who don't mess around when it comes to fitness. Their trademark combination of wittiness and brazen appeal to their members' macho personality is on display in the example below: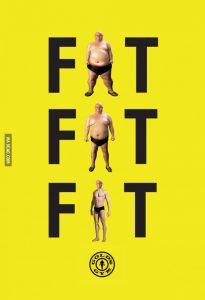 Among international fitness chains, Gold's print marketing is instantly-recognizable due to rich photography and fine-tuned graphic design. They aren't afraid to draw a line between their ideal customers and non-customers, which actually works for them. Even though their marketing is a bit edgy at times, it leaves the consumer in no doubt about what the Golds' lifestyle means.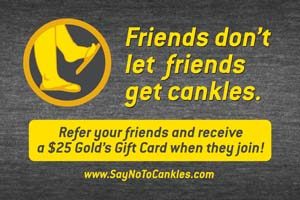 How These Distributed Brands Get Consistently Beautiful Print Marketing Results
The brand management teams for Ikea, Harley Davidson, and Gold's Gym are due a lot of credit. They're made up of incredibly talented marketers and designers who are at the top of their professional game. These sages of branding take an uncompromising approach to creating the best advertising that they possibly can with each and every campaign.
However, the fact that these messages are relayed so neatly to the in-store signage and local billboards isn't just down to the brand management team's in-house design talent. Even marketers with minimal background in design know that print is tricky and unforgiving; a typo in an OOH banner doesn't go away until the subway car advertisement is replaced. Once you've submitted an ad for publication in a national magazine you can't just call it back and tweak the leading or tracking a little.
If your brand – like all three of these mavens – relies on local marketers to convey your brand style and campaign messages in print format, you've got to have mechanisms in place to help them succeed with minimal risk to the work the professionals have already done. This includes print ads that are free of typos, and retain the same high-powered design quality that was produced at HQ.
While the only way to learn all the secrets these three brands know is to work for them, we can say that at least some of their success is probably due to their processes and certain tricks of the trade.
The Technology Secret Behind Gorgeous Distributed Print Ads
The right technology-driven processes can provide support for your brand management team and local marketers' objectives of getting high-quality print materials out-the-door quickly and with minimal risk of error. There are a few key workflows and features that can support these print marketing objectives:
1. Flexible Approval Loops
Depending on your brand's structure, you may require a brand manager or design pro to review and approve a local marketer's print materials before they are published or sent to a vendor to be turned into a poster. Your processes need to support highly-iterative and fast approvals, both in terms of the technology you use and the way you structure your graphic designer's workflows and job responsibilities. Ideally, it should be easy for designers to correct a local marketer's misspelled addresses on-the-fly, or adjust design elements that have been negatively modified by a local stakeholder.
2. Restricted Content Settings
With local marketing automation tools that support templates, brand teams should build "restricted content" into their local marketing asset design processes for compliance and quality in print. An example of using restricted content could include requiring a high-resolution image, or "locking" the campaign tagline so it can't be edited. In many cases, the specs for restricted versus unlocked content can be provided to designers at the beginning of the layout design process to further increase efficiency.
3. Automated Localization
Whenever possible, introducing automation can improve local marketers' print results. This could include the use of technologies that support easy integration with a print vendor, but also may include automated tools for auto-populating local info into print designs. When locals are able to save contact and local info in your technologies for auto-population, it reduces the risk of errors when going to print. From a process standpoint, a combination of technology and oversight dramatically increases the quality of your local print results.
There's more behind the most brilliant examples of distributed print marketing than just super-talented graphic designers and copywriting geniuses. Chances are, these brands are also propelled by a great operational strategy, as well as great marketing, branding, and design people that support success at the local level.