Named the #1 Casual Dining Brand in the Nation's Restaurant News' "Consumer Picks Report," The Melting Pot operates 135 restaurants across 35 States, Canada, Mexico, Saudi Arabia, and the United Arab Emirates. Currently, the brand has 10 new locations in development internationally.
Founded in 1975, The Melting Pot has offered a unique and memorable fondue-based dining experience for decades. "At the end of the day, what matters most to us is what our guests think of our overall brand," President Mike Lester notes. This commitment to quality is among the reasons that the franchise consistently ranks in the very top among nationwide surveys of consumers on atmosphere and overall dining experience.
The Melting Pot's commitment to quality can't just end at the head office — it has to extend to each location. Achieving a consistent customer experience, yet allowing each location flexibility with their offerings and promotions, is a difficult feat. Let's dive into how The Melting Pot achieves such beautiful, effective, and localized marketing:
Why Local Advertising Customization Matters to The Melting Pot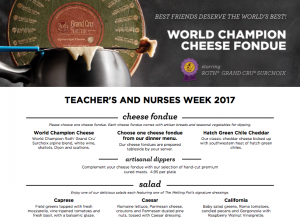 One of the great things about The Melting Pot model is that franchisees are empowered to make their own decisions about which specials to feature and how these specials are priced. Newly advertised specials vary drastically, from special menus for Teachers and Nurses week at the Darien, Connecticut location to mid-week date night options for couples in White Plains, New York. Even with the localized specials, customers still expect the quality that The Melting Pot promises, and franchisees want to deliver.

The Melting Pot's brand management team provides resources to franchisees around brand campaigns including their beloved "Wine of the Week" program and "H.O.T.T.Y" or "Husband of the the Year" promotion. Franchisees who choose to participate in Wine of the Week can draw from brand-provided promotional content, but have the freedom to select which regional wine is featured based on supplier relationships, local customer tastes and other individual factors.
Today's customers crave authentic experiences. For multi-location brands, franchisees and dealers have sufficient knowledge of their local customers to customize specials according to local preference, culture, regional events, and the other factors that can make a marketing campaign perfectly relevant. In short, local customization really matters to The Melting Pot. However, prior to the adoption of their current marketing technology, they struggled to balance consistency in brand image with their franchisees' need to customize promotions to local tastes.
In the age of globalization, customers are responding to locally-authentic brand advertising. Learn more about supporting your local marketing teams with The Local Marketing Playbook.
The Challenge: Maintaining Quality, and Consistency, Across 100+ Locations
Much like other distributed brands who are managing large networks of franchisees, dealerships or local representatives, The Melting Pot faces the challenge of supporting the right balance of customization and brand consistency to enable a high-quality experience at each of their locations. With too much customization, local advertising may not feel up to standard, and lower the quality that customers are used to. With too much consistency, the flavors and local culture that make each restaurant special could be lost.
The Melting Pot's brand identity is defined by bold food photography, cozy-looking details, and red and brown tones that evoke the rich flavors of their food. In addition to keeping up all the details that show off this unique look to customers, Melting Pot franchisees are tasked with communicating the details of their specific location to both new and returning customers via their preferred marketing channel.
Capturing the individuality of each location, while still maintaining brand voice, is one of the key challenges faced by multi-location brands. Read on to learn more about how The Melting Pot achieves this balance, and helps their local marketers succeed with localized, compliant marketing.
The Simple Way The Melting Pot Solved the High-Quality Marketing Challenge
At The Melting Pot, a critical part of the marketing program is the restaurant support team; whose job it is to give franchisees the resources and assets they need to represent the brand in a high-quality manner. They need to support franchisees as they create, or use, hundreds of menus, promotional items, table cards, and other marketing materials. All of these items need to be customized with accurate information, like: Event dates and times, addresses, phone numbers, and other localized information. Like many multi-location brands, The Melting Pot franchisees don't have a graphic designer on staff to help them with all of these requirements, so they turn to the support team for help.
The Melting Pot realized that marketing technology supporting local outlets was the most scalable way to enable local teams to tap into relevant promotions. They needed a local marketing tool that offered design flexibility at the local level as well as advanced design and asset management features for their headquarters team. Their search for a local marketing automation (LMA) tool with strong digital asset management (DAM) capabilities led them to adopt and launch CampaignDrive in 2012.
A Rapid Success: The Melting Pot's 90-Day Results
Melting Pot franchisees responded with incredible enthusiasm, and the brand achieved 98 percent adoption of their new LMA technology in just 90 days, as measured by the percentage of franchisees who accessed CampaignDrive to create and customize local marketing assets for execution. For this global fondue restaurant chain, selecting the right technology was an effective way to solve a common distributed marketing challenge.
"[CampaignDrive] is incredible. Our franchisees have been ecstatic with it since day one. And for the team at HQ? The admin tools are a dream!" — Mark Newlin, a Melting Pot Programmer Analyst
One key feature that drives adoption for both head office and locals? Templating. Using templates, brand designers are able to create the bones of local promotions, while "locking" certain key details such as font, colors, or controlling for responsive design to protect proportions. Local franchisees are able to simply customize "open" or unlocked fields with relevant local details such as address or restaurant photography in minutes, resulting in professional-looking, locally-relevant designs.
Massive efficiency gains were achieved at both the local and brand level. Within 12 months of implementing CampaignDrive, the restaurant support team had installed over 500 new templates for franchisee execution. This massive jump in brand assets was facilitated by CampaignDrive's InDesign import capability, enabling the transition from finished design to active template — achieved in just a few minutes time.
To learn more about how headquarter teams can save significant time with CampaignDrive, we recommend How to Streamline Your DAM Workflow & Improve Marketing Efficiency in 6 Easy Steps.
Lessons on Effective Local Marketing Execution from The Melting Pot
Brand management leaders at The Melting Pot realized long ago that providing their restaurant franchisees with the freedom to customize marketing promotions and local advertising is a critical element to delivering the quality that customers expect. Letting franchisees feature products and specials that matter to local customers is a powerful tool for increasing local revenues and growing a loyal customer base. This freedom didn't just provide the franchisees with the ability to speak to local customers with highly-relevant content, it also allowed the headquarters team to maintain efficiency in asset creation.
No two distributed brands are the same, and the right cultural approach to multi-location marketing can vary according to industry. Some organizations may need to maintain much tighter control over brand promotions based on the customer served, products or services, or even regulatory requirements. While the right balance of consistency and creativity in local marketing execution varies by distributed brand, The Melting Pot is hardly unique in their need for a tool that increases efficiency at headquarters while enabling local marketers to execute beautiful, compliant, and customized local advertising.
CampaignDrive was the right choice for The Melting Pot, as well as Polaris, Marriott and many other distributed brands — helping them to meet the needs of the brand management team and local marketers.
For more insights into how The Melting Pot switched to CampaignDrive and won 100% technology adoption in just 90 days, check out The Melting Pot Case Study.