If there's any franchise business that can't afford inconsistency, it's a hair salon. While brand consistency is the cornerstone of customer loyalty for any brand, the results of an inconsistent brand experience can be highly visible for salon customers. A bad haircut isn't easy to hide, and you have to live with it for weeks on end. For a major franchised brand like Supercuts, consistency is at the core of the customer experience. For this reason, they're both the largest and best-known hair salon franchise in the U.S.
Supercuts' customers know that whether they're in California or Massachusetts, they can walk into any Supercuts franchise location without an appointment and pay an affordable price for a haircut. While it's hard to deny the value of this brand's services, with haircuts starting at just $14.00, the secret to their success is also in the consistency of their brand marketing. We wanted to find out what makes this #1 salon brand really shine on the local level, besides the hot towel finish of course. So read on to learn how remarkable consistency is what helps Supercuts be a cut above the rest.
The Supercuts Franchise Story: How it All Started
Supercuts was founded 1975 in Albany, California by Frank Emmett and Geoffrey Rappaport. The brand's profile in Entrepreneur notes that the salon was started to fill what Emmett and Rappaport perceived as a gap in the market - a need for hair styling services that were less costly than upscale salons and also not the same as "neighborhood barbershops."
The brand's formula was perfected when the founders developed a characteristic hair cutting technique that took just 20 minutes, and allowed their customers to pick-and-choose services for a budget-conscious or more tailored experience. After being acquired by North American salon-franchising giant Regis in 1996, the Supercuts brand remains the #1 haircare franchise in America. Today, there are 2,600 locations in the U.S. promising a haircut that will look "clean, sharp, and ready."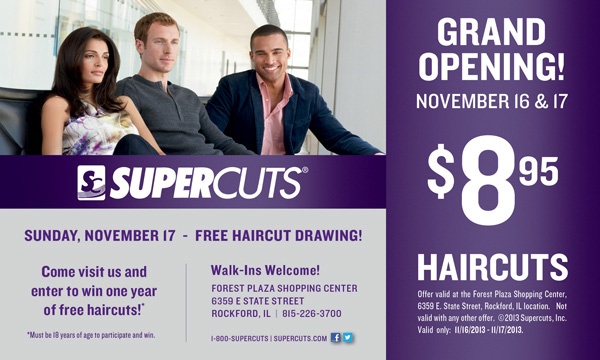 Image credit: Alpine Community
Franchise Brand Consistency is at the Core of Supercuts' Success
"With more than 40 years of experience, Supercuts stands apart through efficiency and simplicity." These words, taken directly from the Supercuts franchising guidebook, communicate the salon franchise's core values. In order to achieve their status as the "most recognized salon brand in the hair care industry" Supercuts has to deliver on the promise they make to their customers, again and again.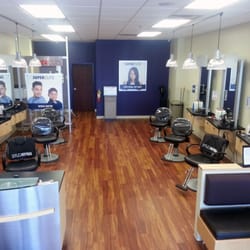 Image credit: Supercuts
For Supercuts and other franchised brands, there are two main components that drive this consistency: a clear brand promise and a solid delivery model. In Supercuts' case, this means the brand advertises haircuts that promise a "fresh look," and local operators deliver great salon experiences every time.
Supercuts wouldn't have thrived if they only offered one haircut and used the same marketing for 40 years. However, they have methodically built a customer engagement strategy by communicating their key brand promise of "fresh" and "sharp" in new and interesting ways. By consistently executing on this brand promise over the last 40 years, they have built themselves into a brand that customers know and trust. They execute on this brand promise through a well-defined delivery model, with clear branding and local marketing, that delivers the company's message in a way that enables them to build a successful franchise in one of the most difficult industries. Consistency, and their commitment to consistent branding and marketing (no matter the location) is the foundation of their success.
Learn more about establishing brand consistency with Distributed Marketing on Steroids: The Brand Manager's Guide to Designing and Managing Local Marketing Assets Without Breaking a Sweat.

Why Do All Supercuts Seem So Similar?
Even if you're not a Supercuts customer, you've encountered the brand's remarkable consistency. Their storefronts nationwide have nailed brand consistency in messaging, visuals, and other elements of in-store and display signage.
From local marketing materials, to in-store and out-of-store signage, Supercuts remains consistent: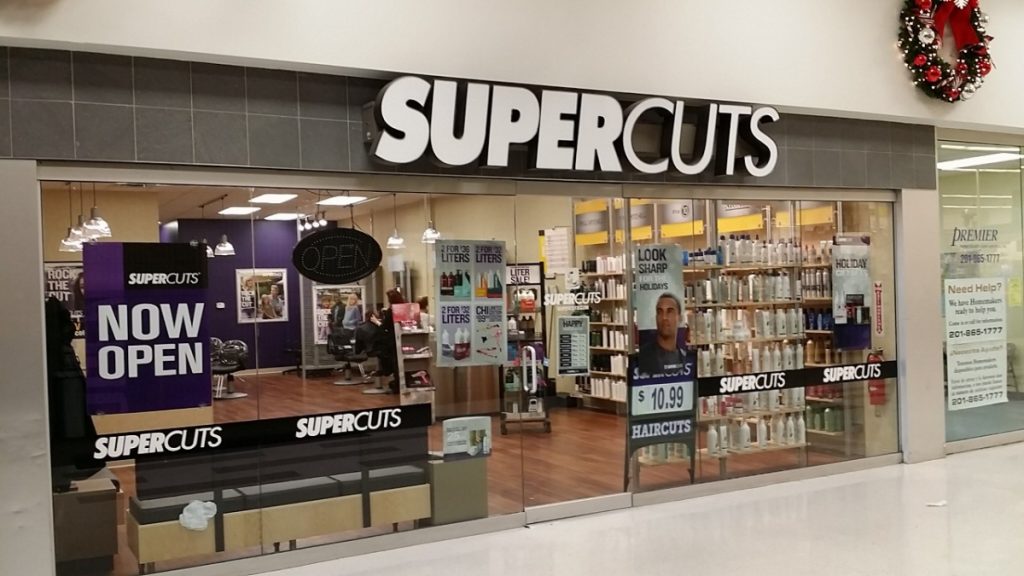 Additionally, Supercuts puts quite a bit of effort into supporting their local franchisees. In the franchisee marketing support section of their website, it's noted that Regional Marketing Managers are responsible for overseeing marketing for groups of Supercuts franchisees. With regional support, and dedicated brand contacts for the franchisees, local marketing campaigns are supported through strategic planning by geographic area. It's a win for both the brand and the franchisee, as dedicated regional support ensures oversight of local marketing efforts - keeping messaging consistent - while also providing guidance and help with execution.
What Does Successful Marketing Look Like for a Supercuts Franchisee?
Supercuts' franchisees are primarily looking to generate a return on investment and positive cash flow from the business. Additionally, they have a number of secondary objectives in order to reach that primary goal:
Driving reservations (repeat business)
Capturing foot traffic/casual customers
Product upsells (premium sales)
Employee recruiting
Supercuts' franchisees have the unique challenge of needing to win their salon customers on a recurring basis. If the experience does not match the brand promise, they will loose customers. Thus, marketing and branding play a key role in showcasing the consistent "Supercuts experience" to the local customers and potential customers. Customers need to leave feeling satisfied with both the service and the in-store experience. Successful marketing for a Supercuts results in bringing in a solid local customer base, who leaves the store happy and with plans to return.
How Local Consistency Inspires Supercuts' Award-Winning Campaigns
Because of Supercuts' foundation of local consistency, they have the ability to create a campaign that is more creative. Supercuts scored an ad of the week nomination from AdWeek for their "Rock the Cut" campaign, which partnered up-and-coming indie bands with Supercuts employees for national and local advertising. At a national level, connecting musicians, who are notoriously image-conscious, to a salon brand simply makes sense. The campaign also spotlighted "obscure acts" instead of renowned musicians, which was a brilliant angle for local advertising. By recognizing local bands, Supercuts allowed these campaigns to hit a home run in the featured indie musicians' hometowns.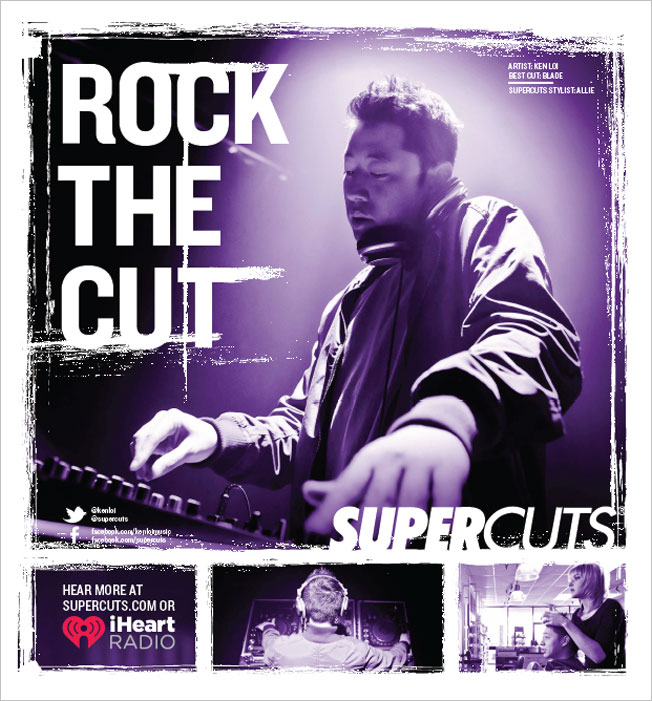 Image credit: AdWeek
With this campaign and other localized efforts, a franchisee might see a great opportunity to make a mark for their unique salon through partnership with local music celebrities. Other distributed brands can take lessons from this brilliant campaign and the example it sets, of adding creative local enhancements to national campaigns.
How Supercuts' Model Supports Local Marketing Consistency
Supercuts franchisees have the benefit of being able to coordinate campaign ideas with a regional marketing manager. In similar distributed marketing models, the regional representative acts as an intermediary between franchisees and the brand marketing and design teams.
If a Supercuts franchisee is testing a new idea, or wondering whether a store rate card concept would meet brand standards, they have a designated representative for approval. This enables local business owners to create advertising, and other forms of marketing, for their own business, as seen in the fundraiser example below: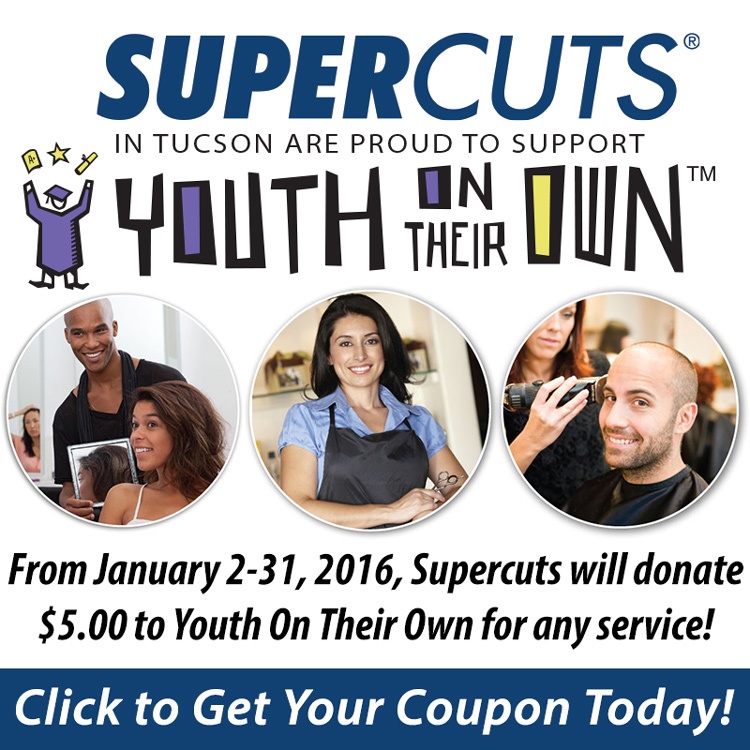 Image credit: Yoto
Having that flexibility, and being able to adapt to the unique needs of each local market, is key Supercuts' success on a national scale. The on-the-ground support that Supercuts' regional marketing managers offer local franchisees is critical in the ability to adapt. By bridging the gap between the national brand vision and the local customers, regional reps give franchisees a sounding board to help them create new campaigns, and let them know quickly what elements might need to be tweaked. In this way, locals can shine - without running the risk of going off-brand.
Lessons from Supercuts Local Marketing Wins
Looking from the outside in, Supercuts is a clear case study in what it means to create a space in an industry, and secure a position as an industry leader. In Supercuts' particular case, the marketing success of their franchisees is supported by:
Consistency
Business-oriented marketing
Local innovation
Regional marketing representatives and support
With these key factors at play, Supercuts creates a strong foundation for effective local marketing. Not only does the brand benefit, the local franchisees are supported and their customers feel satisfied with a haircut experience that checks the box every time.
For more ideas on how to boost local marketing, get The Franchise Marketing Playbook, for templates, campaigns, and tools to help local franchisees succeed at local marketing.