When you think of coffee shops with a global presence, Starbucks probably comes to mind. While there's not a green mermaid on every corner quite yet, there are 30,000 locations in 70 countries around the world.
In Starbucks' case, their rise to worldwide coffee-shop success has depended on their central planning. Unlike most ubiquitous food & beverage concepts, Starbucks owns and operates most of its stores. In the past, the organization did offer limited franchising opportunities in Europe. However, their UK website states that they are "not currently recruiting any further franchisees."
While Starbucks' owned and operated mantra might seem like the perfect model for a major brand to control and ensure brand consistency, even wholly-owned distributed brands are still susceptible to local marketing issues.
In this post, we'll explore both the benefits and pitfalls of the Starbucks model, and why even such a well-known brand operating (for the most part) on a wholly-owned model, can still fall victim to the same local marketing hiccups and growing pains of any brand.
Why You'll Probably Never Own a Starbucks Franchise
For Starbucks' recently-retired CEO Howard Schultz, the company's wholly-owned status in the US is a deliberate choice. In his 1997 autobiography, Schultz admitted a desire to maintain a "fanatical level of control" over stores because of his commitment to values and culture.
While Schultz's commitment to brand consistency is admirable, franchising doesn't always stand in the way of a consistent customer experience. Simply look to brands like Chik-Fil-A whose values have only been amplified with franchising; or Marriott, with 600 franchise management partners, their franchised locations offer the same commitment to quality.
Despite Schultz's fanaticism for centrally-planned brand consistency, issues can crop up for any brand. Even with a strong brand like Starbucks, there is no getting out of doing distributed marketing right. Both franchised brands and wholly-owned models have to overcome the challenges of distributed marketing.
If challenges in local marketing sounds familiar to you, you may want to check out our recent blog post: Does Your Brand Suffer From Local Marketing Chaos?
With our theory in place, we're digging deeper into how one of the world's most well-known coffee companies approaches local marketing, and examining their results.
Starbucks' Local Marketing Wins
While Starbucks' brand marketing is mostly focused on a global audience, the company has deployed a few localized efforts. In rare cases, menu items were changed based on location. For instance, Chinese consumers are not nearly as coffee-addicted as people States-side. To win over customers in China, Starbucks expanded their coffee-free beverages and debuted a red bean latte.
They've also made efforts to connect with the needs of local clientele through "concept stores." One of Starbucks latest locations, at 14 Wall Street, in New York includes a mobile point-of-sale at the door and a very limited menu. The goal is to get busy finance professionals out the door with a cup of caffeine as quickly as possible.
Finally, you've probably encountered some of Starbucks' local mugs. Known as the "You Are Here" series, the mugs feature city names in a consistent font and display major landmarks from around the globe. Not only are these mugs really effective tourist bait, they have also inspired an online community of dedicated collectors.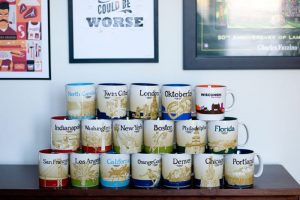 image credit: ebay
What Distributed Brand Managers Can Learn from Starbucks' Wins
The examples provided above show how local marketing can be an important factor in the branding plans of even a wholly-owned company. It's clear that Starbucks recognizes the impact that local marketing can have. Daily interactions with local customers on a personal level gives franchisees and local partners an advantage in really knowing the community in which they operate.
Additionally, creating local swag is easy for distributed brand managers, and can help support local outlets. Distributed digital asset management (DAM) tools, like CampaignDrive, offer a merchandise store where local marketers can order approved and designed materials like pens, mugs, and shirts.
When Starbucks Doesn't Win at Local Marketing
If your in-house design team ever works with different languages, it's probably wise to have someone fluent proofread your work. In one example of in-store local marketing, Starbucks didn't quite get the right message across. "Éxito Aquí" translates to "Success Here" as opposed to the intended "Exit Here."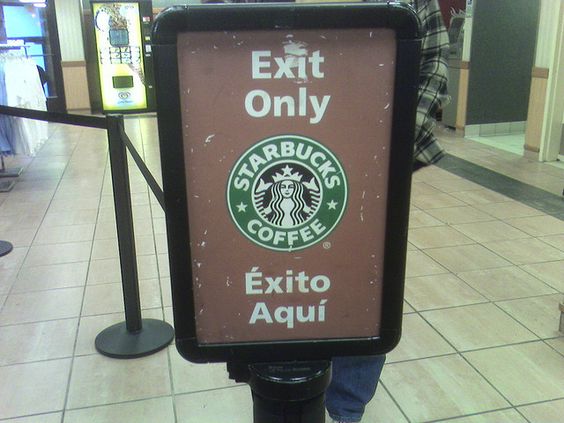 In other instances, Starbucks has experienced global communication pains and difficulty understanding local audiences. Seattle's 15th Avenue Coffee and Tea was a bid for "community personality," and attempted to offer an indie vibe with live music and spoken word performances. Referred to by one analyst as "Starbucks' midlife crisis," the location was controversial. Protesters attended the grand opening to mock the "local multinational corporation," and the shop's doors closed before its second anniversary.
For brand managers at any distributed organization, there are important lessons to learn from 15th Avenue Coffee and Tea's failure. Online commentary echoed many locals' sentiments that the effort felt like Starbucks was "disingenuous" and trying to "hoodwink" locals into thinking it was a small business. With more knowledge of the Seattle Capital Hill consumer base, and some advanced intel from local marketers on the ground, they could have avoided embarrassing global press.
Why Global Brands Need to Balance Local Marketing with Consistency
There's no denying that Starbucks, with over 46 years in business, has been a massive success. They've built a global presence and some serious brand consistency. However, even for one of the most tightly controlled and curated brands in the world, the local marketing they've implemented still shows signs of growing pains.
For brand managers, the lesson here is the importance of balancing the need for brand consistency with a focus on creating excellent local marketing. By providing customers with a personalized, relevant experience, you show that your brand cares and is integrated into the community. This applies to any distributed brand looking to engage locally – whether you're franchised, wholly-owned, or Starbucks.
CampaignDrive by Pica9 is a leading tool for consistent, locally-relevant marketing for global brands. Offering digital asset management, content management, templates, reporting, and other features; we help brands like Marriott, Melting Pot, and Polaris rock their distributed marketing.
To learn more, check out our free eBook: The Brand Manager's Guide to Designing and Managing Local Marketing Assets Without Breaking a Sweat!