L.L. Bean unveiled an "invisible" newspaper advertisement. Like magic, the text revealed itself when viewed in the sunlight. "Welcome to the outside," it begins, "where there are no strangers, only friends we haven't met yet."
For many consumers, print advertisements have become a bit of an afterthought. Likewise, many businesses have adopted a digital-first attitude. The fact is, print is still one of the most effective marketing tools, and if your business isn't currently invested in a variety of local print advertisements, in-store signage, business cards, pamphlets, and more, you are leaving money on the table.
8 Print Media Ideas to Kickstart Your Marketing
You might be surprised to learn that 98% of consumers sort through direct mail (compared to the 20% who open emails from brands).
To kickstart your print marketing strategy, check out these proven print media ideas.
1. Local Print Advertisements
Many industry-leading multi-located brands make considerable investments in local print advertisements. The smart use of targeted, hyperlocal advertising can be a powerful method for reaching high-value prospects and customers.
In your own local advertisements, try to infuse a bit of local flavor including location-specific messaging and imagery. Recent data indicates that 74% of consumers respond to location-specific messaging.
2. Mailers
A direct mail campaign is a great way to reach prospects and customers. Receiving something in the mail is a surefire way to get someone's attention. The trick is to make this piece stand out from the rest of the "junk mail."
Try incorporating some interesting design elements including bolded text, quality imagery, eye-catching colors, and more. Many of the most effective pieces of direct mail focus on delivering value to customers through coupon codes. To take it a step further, consider including a punch-out gift card.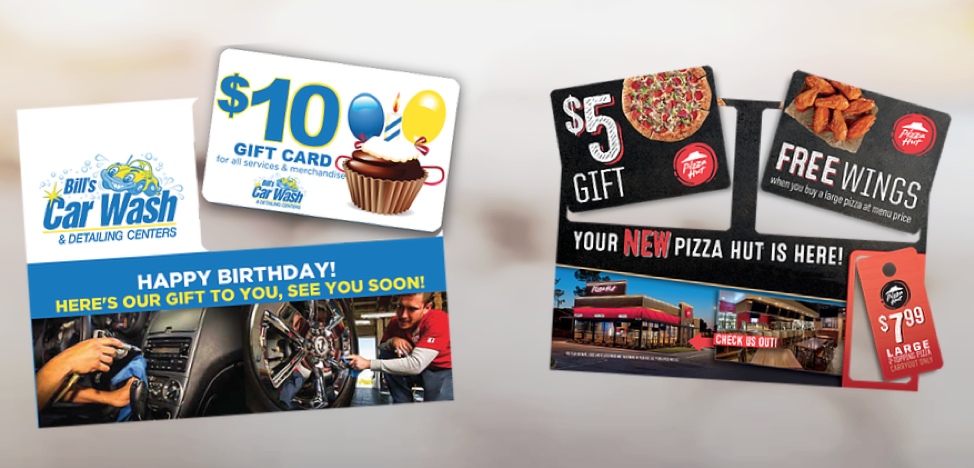 In this example, Bill's Car Wash offered a $10 birthday gift card. Additionally, Pizza Hut issued a $5 gift card and free wings to promote a new location.
3. In-Store Signage
To operate a successful business, in-store signage is an absolute requirement. Investing in quality signage is an easy and effective way to drive increased foot traffic and communicate with customers. Your signage must be concise and attention-grabbing. Moreover, signage must promote a clear and compelling call to action.
From informational signage (open hours, directions to the restroom) to persuasive signage (seasonal sales, featured products), there are plenty of opportunities to invest in this print medium.
4. Pamphlets
A simple pamphlet is a tried-and-true method for attracting prospects and customers quickly. In most cases, a pamphlet communicates important, evergreen information. Additionally, a pamphlet can be easily tucked in a back pocket, purse, or backpack. When paired with the right message, a pamphlet is one of the most convenient and informative print pieces available to consumers.
In this example, a local real estate company used a pamphlet to communicate important mortgage approval requirements.
5. Product Sheets
The best product or sales sheets incorporate quality imagery and compelling copy to motivate customer purchases. A product sheet should be free of any complex or technical verbiage. Instead, it should communicate the product's value quickly and concisely. As a best practice, consider adding your contact information including address, telephone number, website, and email address.
6. Business Cards
In many instances, a business card is the first interaction customers will have with your business. As such, a business card should catch prospects' eyes and communicate your brand's unique values almost instantaneously.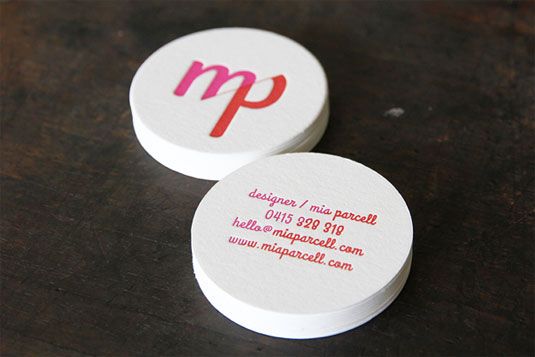 In this example, to stand out, a designer used a whimsical color palette of reds and pinks. Additionally, the designer came up with an interesting circular shape to capture the customer's attention.
7. Merchandise
Finally, leverage the power of printed merchandise, including pens, t-shirts, drawstring backpacks, and stickers. These kinds of items tend to last longer than any of the other previously mentioned print materials. Additionally, wearable items featuring your brand logo and colors serve as great promotional items.
Bonus: Unify Print Media and Digital Marketing
The most effective multi-location businesses are fusing print and digital to create a unified marketing experience. For example, on all of your business cards, try including a QR code. This makes it simple and easy for prospects and customers to schedule a call, visit a sales page, etc. Additionally, marketers can use print with digital to drive local marketing ROI.
Achieve Print Marketing Mastery With CampaignDrive by Pica9
From location to location, industry-leading distributed businesses use these and other print media ideas to increase brand awareness and promote the brand's unique mission and values. To accomplish this, the parent brand must work in tandem with local affiliates and franchisees.
We get it – achieving brand alignment is easier said than done.
If your brand is struggling to achieve corporate-local alignment, we recommend downloading The Local Marketing Playbook. In this playbook, you'll learn how to manage campaigns, templates, and assets to enable local marketers to execute successful marketing strategies across the distributed network.