This year, more than 1,000 internationally recognized enterprises applied for Entrepreneur's Franchise 500. Forty years after the very first Franchise 500, the franchise industry continues to grow as more businesses enter the playing field.
As more franchise businesses compete for the attention of your customers, you'll need to routinely analyze and measure the effectiveness of your local marketing. The most effective local marketing echoes the brand's unique look and feel. Moreover, it attracts high-value prospects through compelling messaging, consistent branding, and on-time campaign activation.
The fact is, in order to maximize the effectiveness of your digital marketing for local business, you need to invest in the marketing tactics, strategies, and processes that work and are relatively easy to build, manage, and deploy at the local level.
Digital Marketing for Local Business: 5 Proven Strategies
The gist of local marketing is simple – raise local awareness about your brand and the provisions it offers, and business will follow. Take your digital marketing for local business to the next level with these five proven strategies:
1. Embrace Authenticity
The most successful franchisees will market the brand in an authentic way.
"For brands – just as for celebrities, politicians, and anyone else in the media spotlight – scandals, PR mishaps, and social media slip ups are nearly impossible to keep off the connected consumer's radar," says Ashley Deibert, Vice President of Marketing at iQ Media. "As a result, brands no longer have an option other than representing themselves honestly and transparently."
Help local affiliates to tell your brand's unique story in an interesting, compelling, and authentic way. In this way, prospects and customers will develop a more meaningful connection with your brand. In this scenario, investing in a brand management software solution can help franchisees to embrace authenticity while incorporating some local flavor into brand creative and marketing executions.
2. Pay Attention to Your Competitors
For any business, especially those in the distributed environment, monitoring the competition is a critical component of marketing success. What are your competitors doing and how can these tactics or strategies be applied locally?
Moreover, look for opportunities to learn from competitors' mistakes. Learning from both the successes and failures of your competitors is a built-in boost for your business, saving you valuable time, resources, and money.
3. Gamify Local Marketing
Try to incorporate an element of fun into your local business marketing strategy.
"The theory behind implementing these types of techniques is that they make an emotional connection with the audience and lead to a longer relationship as opposed to simple brand awareness," says Kristen Matthews, an influencer marketing expert.
Dominos incorporates a bit of gamification into its mobile pizza ordering application. Customers can simply shake their mobile phones if they don't know what to order and a pizza with random toppings will be generated. This is a great way to get customers talking about the product and it makes purchasing dinner fun!
4. Focus on the Channels That Work
As marketers, there's a temptation to over-invest in the "latest and greatest" marketing channels, tactics, and strategies. Instead, find the marketing channels that resonate with your prospects and customers the most and focus on making the experience great on those channels.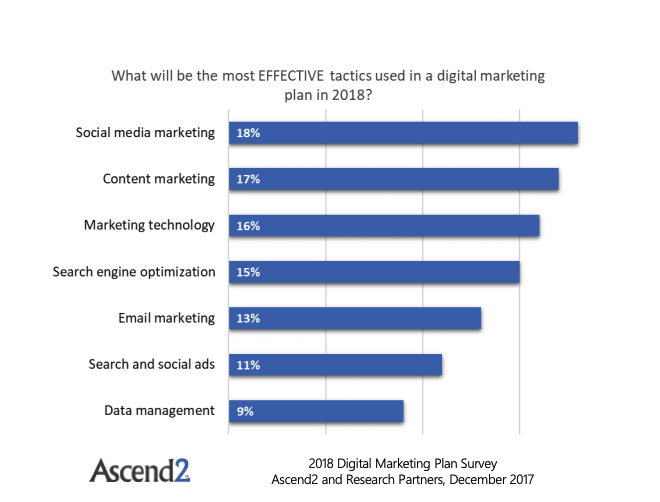 In a recent survey, one research-based marketing company found that social media marketing and content marketing rank as the most effective marketing tactics. Nearly two-thirds (63%) of respondents consider collaboration between outsourced and in-house resources to generate effective digital marketing.
5. Deliver a Consistent Customer Experience
When prospects and customers receive a consistent customer experience across the distributed network, multi-location brands are working to build deeper brand equity. In fact, 78% of consumers report that they have canceled transactions because of a poor experience. With so much at stake, how can brands deliver a consistent customer experience at the local level?
For the world's most successful multi-location brands, increased brand consistency starts with an investment in brand management software.
Related: How to Create a Consistent Customer Experience
Digital Marketing for Local Business Powered by CampaignDrive
The success of your brand's local marketing relies on expert execution. In many instances, the first step towards building high-impact local marketing starts with gathering the right marketing templates and tools.
With 30 brands and more than 7,000 properties, Marriott International needed to manage marketing at the enterprise level and empower locals to add simple customizations. CampaignDrive delivers an enterprise brand management system that ensures consistency and local marketing flexibility for its entire global network.
"Our landing page generator is a game changer for our local marketing team. It makes them more nimble and responsive – and saves tons of cash at the same time!" says Meghan Dillon, Senior Content Strategist.
To achieve these same results and kickstart the effectiveness of your local marketing, we recommend taking our software for a free test drive. Experience first-hand how system administrators, designers, and local marketers use our software to power value-driven customer experiences and deliver on-brand creative across the distributed environment. Are you ready to begin?