A great customer experience drives increased revenue for multi-located brands.
In most cases, a stellar customer experience, especially in the distributed environment, is built on high-value and consistent local marketing executions.
There's a lot at stake when local franchisees, dealers, and distributers fail to deliver a great customer experience. In fact, 66% of consumers have actually abandoned a brand due to a poor customer experience. Moreover, 55% of consumers are willing to pay more for a guaranteed good experience.
What's the secret to delivering an out-of-this-world customer experience then?
In most cases, it starts with a creative asset management system.
What's the Best Creative Asset Management System?
As businesses create more and more digital assets to fulfill marketing strategies, the need to secure, store, organize, share, and retrieve files across the distributed network is critically important.
That's where a creative asset management system comes in.
A creative asset management solution enables multi-located businesses to organize and distribute digital files including images, videos, audio, and more. With an organized and accessible digital library, businesses can unlock greater creative value.
If you haven't considered investing in a creative asset management system for your own multi-located enterprise, here are the top five most popular solutions:
1. Widen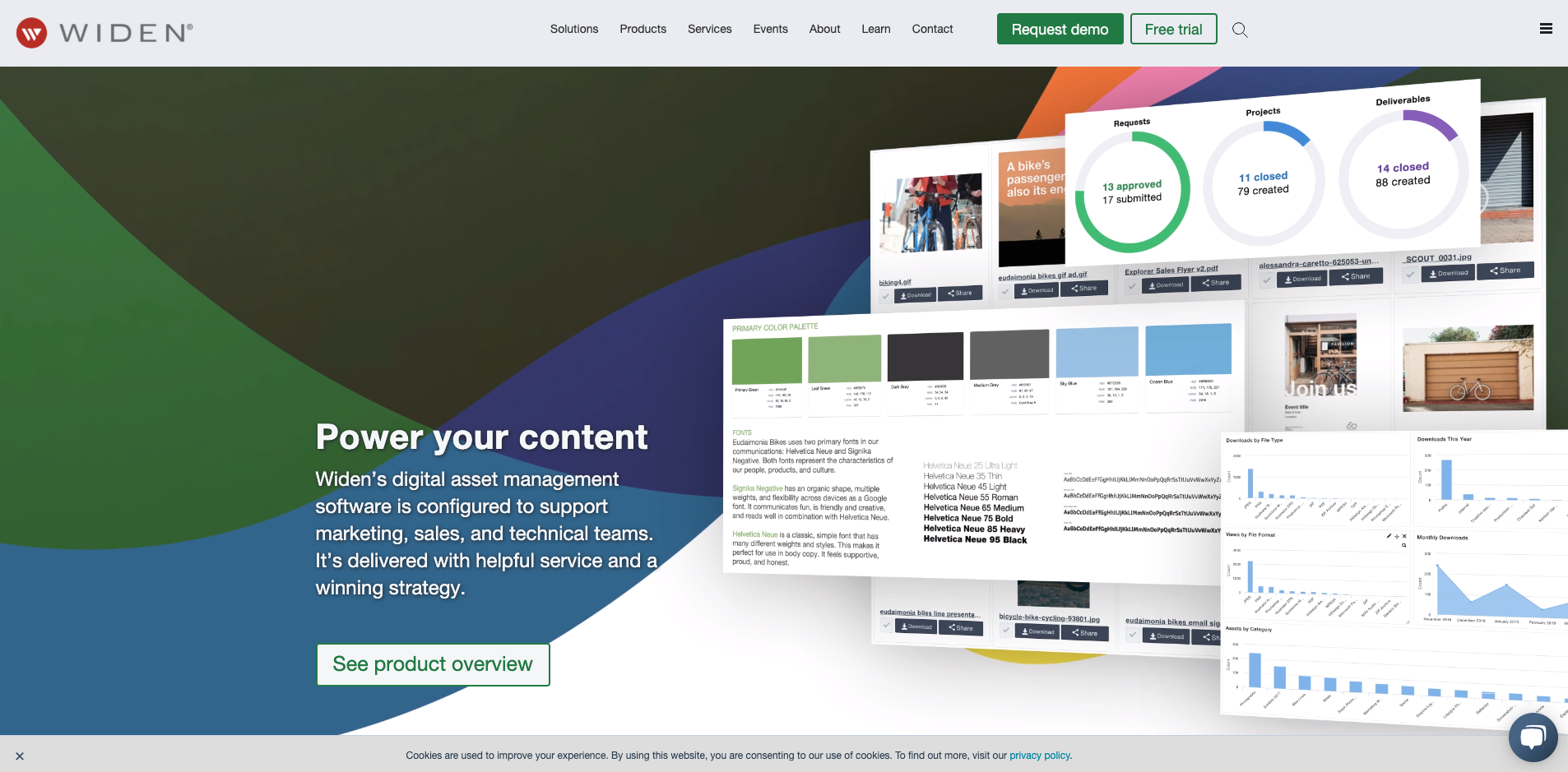 For over 70 years, Widen has inspired marketers, creators, and technologists to effectively find, reuse, proof, and publish content. From online proofing and approvals to shared content and performance analytics, the Widen Collective® is much more than a creative management solution.
This standalone marketing technology was one of the very first in the market to offer a web-based solution. As such, Widen is popular among Fortune 100 companies including WestJet, Crayola, Discover, Enigizer, and WaWa.
2. Canto
Canto software allows administrators to effortlessly organize and manage entire catalogs of content, including images, videos, documents, and more. Canto makes collaboration easy – simply approve content, develop new ideas, and communicate with outside colleagues and external agencies from one centralized location.
Features:
Customizable sorting options (date, file type) to help users find assets quickly
Simplified task management and transparency through powerful workflows
Customizable permissions design to grant or limit portal access
3. Bynder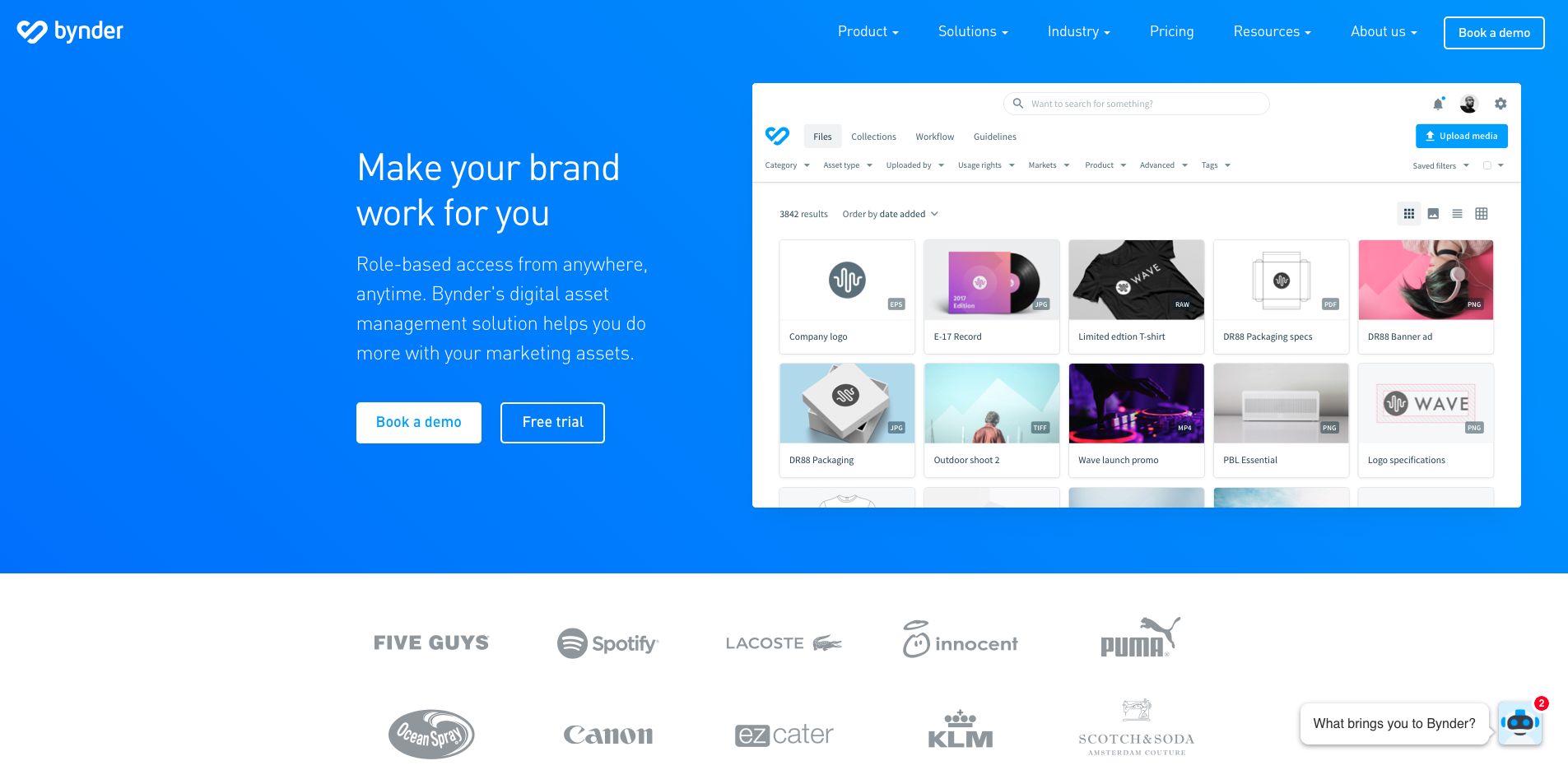 Bynder offers a simple platform for brand, campaign, and product asset management. The company is known for its user-friendly interface, best-in-class customer support, and innovation. There are virtually a limitless amount of in-portal customizations that can be made to align with your unique requirements.
Bynder powers some of the world's leading brands including Five Guys, Spotify, Lacoste, Puma, and Canon.
4. MediaValet
MediaValet helps marketing and creative teams manage and share digital assets across the distributed network, improving productivity and increasing creative return on investment. Access a centralized repository of digital assets including marketing material, video, content, and other media.
Features:
Improve asset discovery with artificial intelligence-driven recognition
Collaborate across creative teams and manage asset discussions and approvals
Track content performance and optimize campaigns
5. CampaignDrive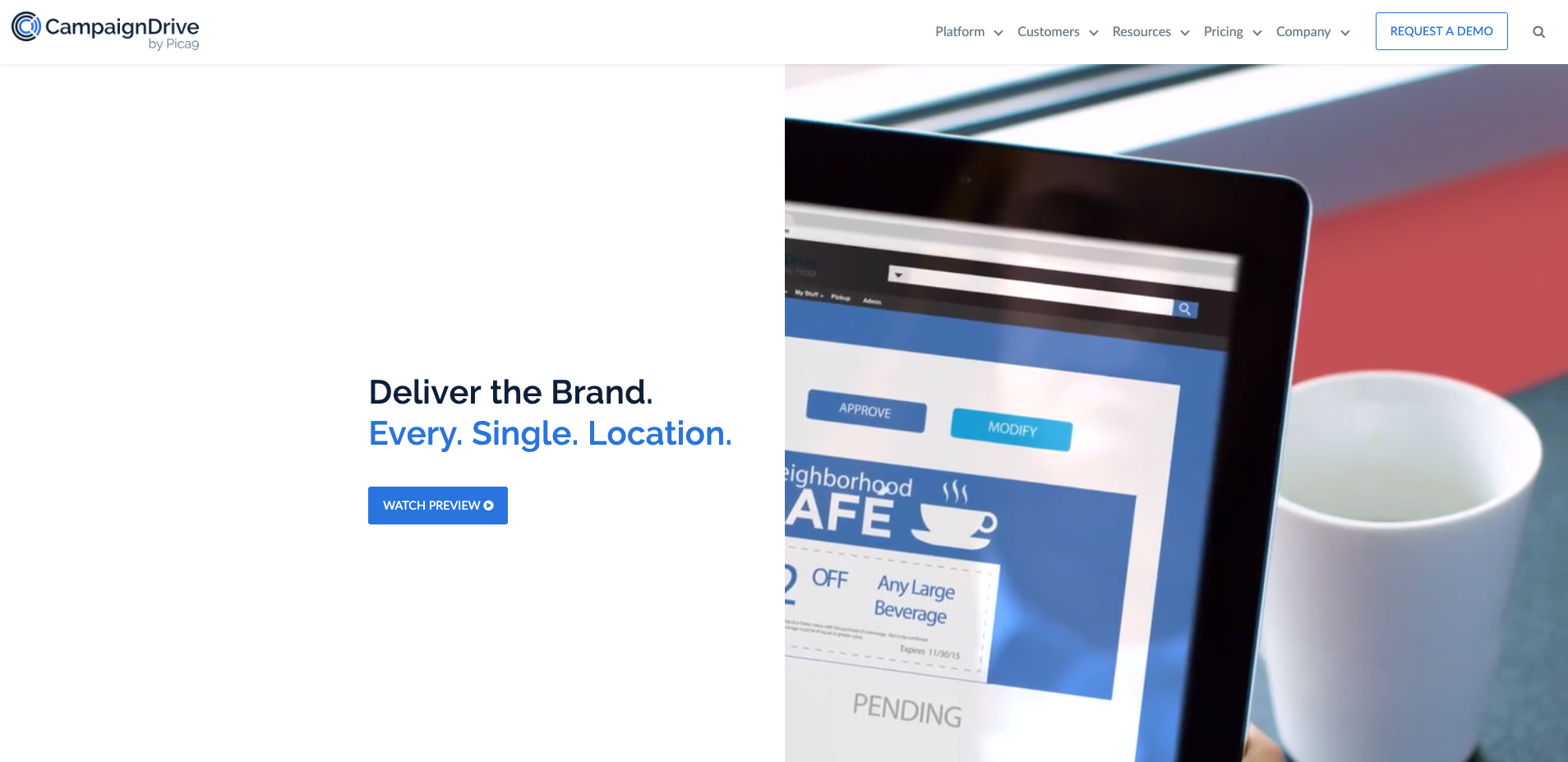 CampaignDrive understands the complexity of multi-located marketing.
Are your graphic designers handling countless one-off requests? Are your local marketing outsourcing creative design? Is your digital asset management solution just not doing the trick? Are your local marketers designing their own creative and causing compliance headaches for your brand managers?
Does this sound like your brand?
CampaignDrive enables industry-leading brands to orchestrate effective local marketing at scale. Eliminate one-off requests and manual iterations and empower local marketing teams to activate the brand.
Bonus: Partnering with CampaignDrive means that your brand will be able to decrease the number of stored iterative creative copies, giving you the ability to reuse templates, and giving your locals the ability to add localized customizations.
And while migrating to a new system might feel like a giant leap, customer support teams are always available to orient your brand towards sustained system adoption, implementation and management.
Are you ready to begin?
Maximize Local Marketing Effectiveness With The Best Creative Asset Management: CampaignDrive
Experience first-hand how system administrators, designers, and local marketers use our software to power value-driven customers experiences and ensure marketing and design compliance across the distributed network.
As an industry-leading brand management software provider, we've heard from hundreds of key stakeholders at globally recognized brands. Prior to partnering with us, most of these businesses suffer from one (or more) of the following:
Difficulty scaling national brands across ever-increasing and diverse locations
Difficulty delivering and managing the brand from location to location
Difficulty customizing brand creative for local use
Difficulty measuring the effectiveness of creative
To get started, we recommend taking a product demo.