Every franchise brand manager knows a poorly-executed local marketing campaign when they see one. We've encountered ads, emails, and signs that look like, well, some local partner absolutely shredded their head offices' marketing guidelines and templates.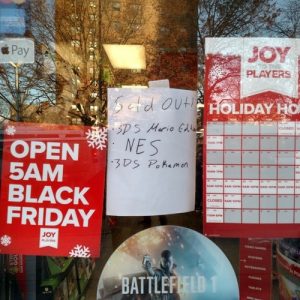 Are your local franchisees doing this?
Effective local marketing requires cohesion with the brand, brand guidelines, and head office vision. If marketing efforts by franchises, dealers, and local outlets don't "look" or "feel" like the brand to customers, the entire brand reputation, and serious revenue, could be at stake.
While brand audits and creative approval processes are critical, the sharpest distributed franchise brand managers know the importance of an effective marketing collateral management program. You can't constantly monitor each of your local partners' efforts, but you can make it easy for them to generate compliant marketing.
In this blog, we'll look at three of the most popular distributed brands doing a stellar job with their marketing collateral over a large variety of channels and franchises. You'll discover their success factors, and how to manage cross-channel, cross-franchise, marketing at scale.
How Top Brands Excel at Franchise Sales Collateral Management
1. Subway
With nearly 49,000 restaurant locations worldwide, Subway is one of the most universally recognized ways to "eat fresh" on the go. For their local restaurant franchisees, a major focus is the in-store experience. Every Subway restaurant, whether in the world's busiest city or on the corner of Main St., must provide the right signage, advertising, and customer service to create a consistent experience no matter the city, state, or country.
Subway enables individual restaurants to run targeted, location-specific promotions. This builds loyalty with walk-in customers, and boosts business for the franchisees. People who aren't regular customers at Subway may see a local promotion, decide to to give it a try, and be converted into loyal customers after a positive (and delicious) experience.
Discover What Works and Stick to It!
Subway knows their brand, from the signage to the smell of the fresh baked bread, customers know what to expect - no matter which location they visit. The following examples, of Subway's advertising, demonstrate a cohesive strategy and approach to marketing collateral assets. While the events advertised span a period of several years, the design remains on-brand and effective:
image credit: Great Deals
image credit: Freebies Land
Support International Franchises
International marketing requires more than just slapping a £ sign on your marketing collateral. Subway has cracked the code and introduced iconic visual elements, like location specific colors, gradient, and banding effects to support an entirely new market of consumers.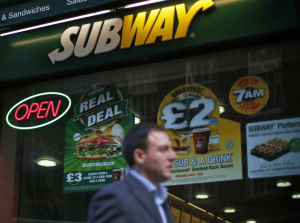 image credit: Business Insider
Appreciate the Nuance of Each Location
Even way back in 1990, Subway's brand managers had a deep appreciation for the individual accomplishments of their franchise owners. They knew that local nuances could provide a fresh impression on customers, and provide a great opportunity to develop the brand's personality in a friendly, approachable way.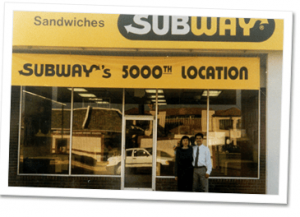 image credit: Subway
For the head office, promoting the 5,000th store in their restaurant network gave customers a new and interesting reason to engage with the brand on a local level.
Create Customer Tailored Out-of-Home Advertising
Creating local advertising assets that sell involves a deep knowledge of your target persona and their local area. Subway's sports-themed billboard for their Michigan franchises reveal that their brand team is happy to bat for the local team: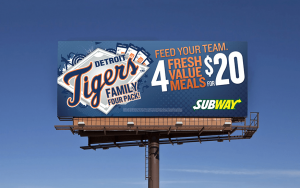 image credit: summits lc
2. GNC
Since 1935, General Nutrition Company (GNC) has been a go-to source for health-conscious consumers. With an estimated 5,308 corporate employees, the brand currently has 9,000 locations that are either owned by the corporation or franchisees.
GNC clearly supports their franchisees promoting in a hyper local way. Often, local franchises partner with other health-conscious brands in the area - an impactful way for GNC's local marketing teams to achieve relevance within their local community. For their customers, a daily experience may involve health-conscious activities like going to the gym or shopping for groceries at a local health food store. By co-creating marketing collateral with other local health-conscious brands, they're able to get in front of prospective customers who are already interested in healthy living within the neighborhood or community.
Offer Digital Link-up
GNC brings their local marketer's efforts to the national level by using local platforms (like storefronts, or check-out counters) to enable national-level engagement. Local storefronts drive someone back to a national web property, which benefits the brand through an omni-channel approach. This is key, as it indicates that the local owners realize how important the success of the brand is to their success as individual stores. Local franchisees promote the brand's digital offerings, and encourage customers to check out omni-channel experiences.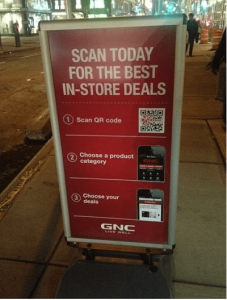 image credit: mobile commerce daily
Build Brand Presence
In certain markets, there are numerous health chains. To break through the noise and competition, GNC's corporate office works to amplify their brand awareness through highly-visible, offline marketing tactics in the form of billboards, public transport advertisements, mailers, and more. This amplification provides additional marketing support for multiple GNC stores, as each GNC in the area benefits from highly visible branding.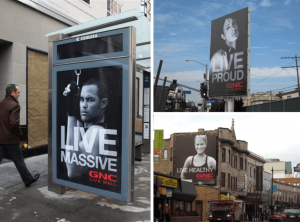 image credit: J Choi studio
Cross-Promote
Many of GNC's customers use vitamins and supplements as a way to enhance their exercise results. In one case, a group of GNC partners established relationships with local health clubs as a method of getting new, health-conscious customers interested in GNC's offerings. This kind of collaboration is unique to local marketing, and benefits the franchisees as well as GNC.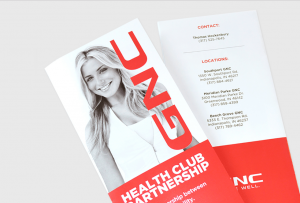 image credit: breanna rae
3. Marriott
People don't always book a hotel room based on the fact that it's in the Marriott family - despite the fact that their brand communicates a global commitment to quality. Much of what goes into marketing Marriott's many locations is a focus on the uniqueness of the hotel property, while still taking advantage of that indelible brand identity.
When comparing Marriott hotels to other local options, consumers are likely to scope out specific amenities, attractions, things to do, and other contextual factors. For Marriott, one major marketing collateral challenge is providing templates to their local franchisees, that are consistent with the global brand, and can be modified into context-rich, site-relevant advertising.
Provide Contextual Info
The following collateral example from Marriott shows a campaign around a highly specific event in real time - a winter snow storm. By providing the collateral for local partners to market around their location in real time (a big snow storm hitting tomorrow), Marriott achieves specificity and relevance to target customers. Franchisees are able to truly speak to their local market while complying with brand guidelines.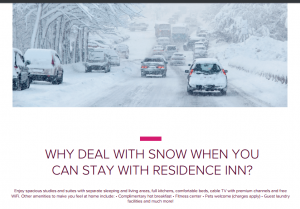 Use Templates to Create Polished Marketing
Templated marketing collateral doesn't need to look less designed or artistic than an original one off design. With the right approach to asset development, brand managers provide the groundwork for assets that are ready to be fit, finished, and polished by local marketers to meet each location's needs.
The following two Marriott examples come from the same template - yet are wholly unique, they're relevant to specific priorities of the individual properties:
Enable Local Marketers to Produce Gorgeous Digital Ads
A banner designed for digital advertising of distributed brands needs to scale seamlessly across locations and screens . The following template for a digital call to action sets the basic groundwork for advertising on desktops, tablets, and mobile devices. The design can also be edited to reflect specials and site-specific events by stakeholders at various locations worldwide.

Learn more about how Marriott overcame their collateral management challenges for 18 brands and 3,600 properties with one simple tool.
Can Franchise Sales Collateral Management Be Simple?
While these examples from Subway, GNC, and Marriott offer some eye-poppingly gorgeous examples of local marketing done right, you may be left wondering, "how do they do it."
How does Subway make sure their franchisees have access to anniversary templates at the right time, and how does Marriott create in-the-moment templates so effectively?
Great brands are able to implement their creativity and top notch design with the help of digital asset management technology. For organizations like Subway, Marriott, and GNC, with thousands of global locations, manually providing templates and assets to partners simply isn't realistic.
With large scale campaigns, enterprise companies look to local marketing automation tools like CampaignDrive by Pica9 to help deliver on brand marketing collateral to local franchisees, dealers, and outlets. By offering customizable templates and asset management, local branches can create and implement highly relevant compliant marketing.
Do you know how brands like Marriott are managing their marketing collateral at the local level? CampaignDrive by Pica9 is local marketing automation solution that empower distributed brands and franchises execute brand-compliant local marketing campaigns.
---
Sources:
http://www.subway.com/en-us/exploreourworld
http://cdn1.greatdeals.com.sg/wp-content/uploads/2013/06/gds_subway-628x680.png
http://freebiesland.my/wp-content/uploads/2016/01/Subway-e1451980633497.jpg
http://static1.businessinsider.com/image/557eecf86bb3f74b6799cdd0/subway-made-2-mistakes-that-are-destroying-its-business.jpg
http://www.subway.com/~/media/base_english/images/timeline/events/1990.png
http://www.summitslc.com/assets/images/subway-detroit-work1.jpg
http://www.bizjournals.com/pittsburgh/news/2016/04/28/gnc-ceo-selling-off-of-company-stores-only.html
http://www.mobilecommercedaily.com/wp-content/uploads/2012/12/GNC_opt.jpg
http://jhchoistudio.com/arnell_group/images/works/arnellgroup_GNC_5_ADVERTISING.jpg
http://www.breanna-rae.com/wp-content/uploads/2015/08/gnc.jpg