With somewhere between 190,000 and 400,000 hotels around the world, it goes without saying that the hotel business is one of the most competitive industries on the planet. [1] That intense competition means that hotel companies are constantly looking for ways to differentiate themselves, and this means they're always seeking opportunities to build even more hotel brand equity with their customers.
In this article, we'll explain why creating brand equity is often just as important an objective as creating shareholder value for hotel companies, and reveal the marketing tactics the world's most-awarded hotel companies use to turn brand equity into their most valuable asset.
To Flag or Not To Flag: Why Hotel Brand Equity Matters
In the hospitality business, when a hotel owner chooses a brand for his or her property, it's called "flying the flag" for that brand or "flagging" the property. That metaphor has worked its way so deeply into the industry that the guys in the data centers of hotel companies have incorporated the notion into their databases and applications — referring to properties as flagged and de-flagged.
The flagging decision is one that, once made, will drive the hotel's business for decades to come. Hotel revenue is intricately tied to the fortunes of the master brand in myriad ways, from the loyalty program that's offered to how modern the online reservations system is. Hotel companies know that franchisees, looking for the best return they can get, will often decide to partner with one brand over another because one has made better investments in brand equity than the other.

Creating brand identity strong enough to draw in eager franchisees is a long-term marketing investment, but major hospitality brands know that their brand equity directly impacts the sales results that they can achieve.
Not only does recognizable brand equity correlate to future sales prospects, but poor or mismanaged brand equity can lead to a deadly double-whammy: decreased sales performance and dissatisfied hoteliers. Making sure the right hotels are flying the brand's flag (and they don't have any reasons to take it down) is the foundation of successful hotel franchises.
How Hotel Brands Invest in Preserving Brand Equity
So if hotel brand equity is fundamental to a hotel company's success, how do marketers at those brands make sure they're always building it?
The most surefire way is by finding ways to guarantee that the communication of the brand's message and core advantages is consistent across every customer touchpoint — even when (actually, especially when) those touch points span hundreds or thousands of properties around the globe.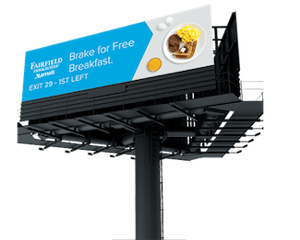 As franchisors, these brand marketers know that they "have a direct impact on the brand citizenship behavior of their franchisees," and that one of the best ways to enhance hotel brand equity is to guide franchisees to becoming careful stewards of the brand.
This is why hotel companies have been early adopters of — and avid innovators with — local marketing automation solutions like CampaignDrive. It's why today we work with more than 17,000 hotel properties, spanning more than four-dozen brands, and generating millions of brand-compliant marketing vehicles every year.
Here are five of the marketing tactics these most successful hotel companies use to preserve their hard-earned brand equity:
Make Brand Compliance the Path of Least Resistance.

There's an old saying that it's easier to beg for forgiveness than to ask for permission. That's what many franchisees think when it comes to branding. But the leaders in the hospitality business have learned that when they give their franchisees a little bit of latitude, combined with a fast and easy approval process, they can keep more properties on message, even as the volume of communications increases.

Remember That Freedom of Choice Beats a Blank Slate.

Year after year, hotel owners and managers tell their brands that they want more and more creative options at the local level. They want to pick and mix, without having to create from scratch. That's why our hotel brands, on average post more than 15,000 unique images per brand for local franchisees to choose from. And they serve up these rich palettes of imagery with dozens of dynamic templates that range from key-card envelopes to 30-sheet billboards — and beyond.

Keep Their Hands Off the Keyboard As Much as You Can.

Hotel brands are also masters of serving up the text content their franchisees need to drive both the brand and the local property's advantages. With a brand-defined database of offers and hotel amenities, they simplify the user experience, and shorten average session times — and these niceties help to keep their adoption rates high. How high, you ask? Try property adoption rates in the high nineties, year after year after year.

Find a Gateway Template (or two), and Build Up From There.

If there's one thing hotel brands have learned, it's to listen hard to franchisees before making big investments in anything that's going to happen at the local level — and that includes a local marketing automation system. Before they implement a system they look for the hot-button pain points for their property-level people, and they deliver local marketing solutions that speak directly to those two or three (or one or two) very specific needs. Then, they listen hard some more, to find out what their properties need next, and in that way help to make sure that every visit to the system is rewarding for their franchisees. It may sound simple, but you'd be amazed how many brands try to anticipate every last wish of the franchisees upfront — only to find that they guessed wrong and then have to course correct in a big way.

Tie the Benefits of Branding Directly Back to Revenue.

Hoteliers have a good head for numbers — just as any entrepreneurial franchisee will. That's why our hotel brands take the time to connect revenue data back into their local marketing systems, to help franchisees draw the connection between top-notch brand execution and top-line revenue. They leverage the reporting systems available in CampaignDrive and tie them in, via APIs, WebHooks, etc., into a bigger business picture. And that helps franchisees to get the most important point: for sure, building brand equity is about creating emotional connections. But it's also about driving the numbers.
See how Marriott Hotels builds brand equity and manages local marketing with more than 3,800 hotel properties worldwide. Download the full Case Study!
CampaignDrive by Pica9 is an enterprise brand management solution that helps world-class brands like Marriott International build and maintain strong brand equity. Speak with a Brand Management Expert to see if we can assist your organization in unlocking it's full brand potential.
---
Sources: