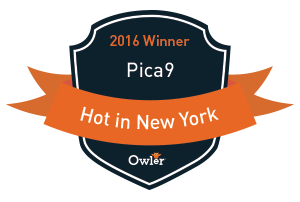 Leading SaaS Local Marketing Automation Vendor Named to Owler's Top New York Companies List for Second Year in a Row
Pica9 – the #1 provider of SaaS Local Marketing Automation solutions for major brands – has been named to the annual list of Companies to Watch in New York by the data aggregation service Owler. The mention in the 2016 list of "Hot" New York Companies marks the second straight year that Pica9 has been included.
Owler awarded the company based on increased interest by industry professionals during the period and the growth in Pica9's online following, which grew more than 10 times since the beginning of 2016.
The competitive intelligence data provider releases its list of top companies in over 600 different cities each year. Owler CEO Jim Fowler said, "We've sorted through a database of millions of contributions from our community and landed on the top trending companies from around the world," said Jim Fowler, CEO at Owler. "Being Hot In 2016 is an accomplishment to be proud of."
This year's list of Top New York Companies places Pica9 among some of the brightest and most well-established companies in the Metro-area. In addition to up-and-coming tech companies like Trello, Conductor and Fiverr, the list also includes established household names like J Crew and GrubHub.
"Being Hot In 2016 is an accomplishment to be proud of."

Jim Fowler, Owler CEO
Founder Kevin Groome called the award a "deserved recognition" and said that inclusion among such a prestigious group of companies underscores the growing importance of local marketing automation in the marketing technology industry. "The entire team has been working tirelessly to make CampaignDrive the best SaaS product for local marketing in the industry – this is more evidence that we're closer than ever to achieving that goal."
With more than 5,000 followers on Owler at this point, Pica9 has been one of the fastest growing companies on the competitive intelligence platform. The company's profile provides updates about important company news, and offers comparisons with other marketing technology platforms. Since Pica9 was included in the 2015 Hot in NYC list, the company has received an influx of new interest by industry professionals.
CampaignDrive by Pica9, the SaaS local marketing automation system for multi-location brands, has received a number of other significant accolades in 2016. The platform was named in the Top 25 Digital Marketing solutions report and received Marketing Automation Vendor of the Year.
Learn how Local Marketing Automation platforms like CampaignDrive by Pica9 Help Major Brands Distribute, Control and Customize Marketing Assets at the Local Level. Download the Exclusive Report from Gleanster on Local Marketing Automation.
---
Sources:
http://blog.owler.com/hot-new-york/
https://www.owler.com/iaApp/106771/pica9-company-profile